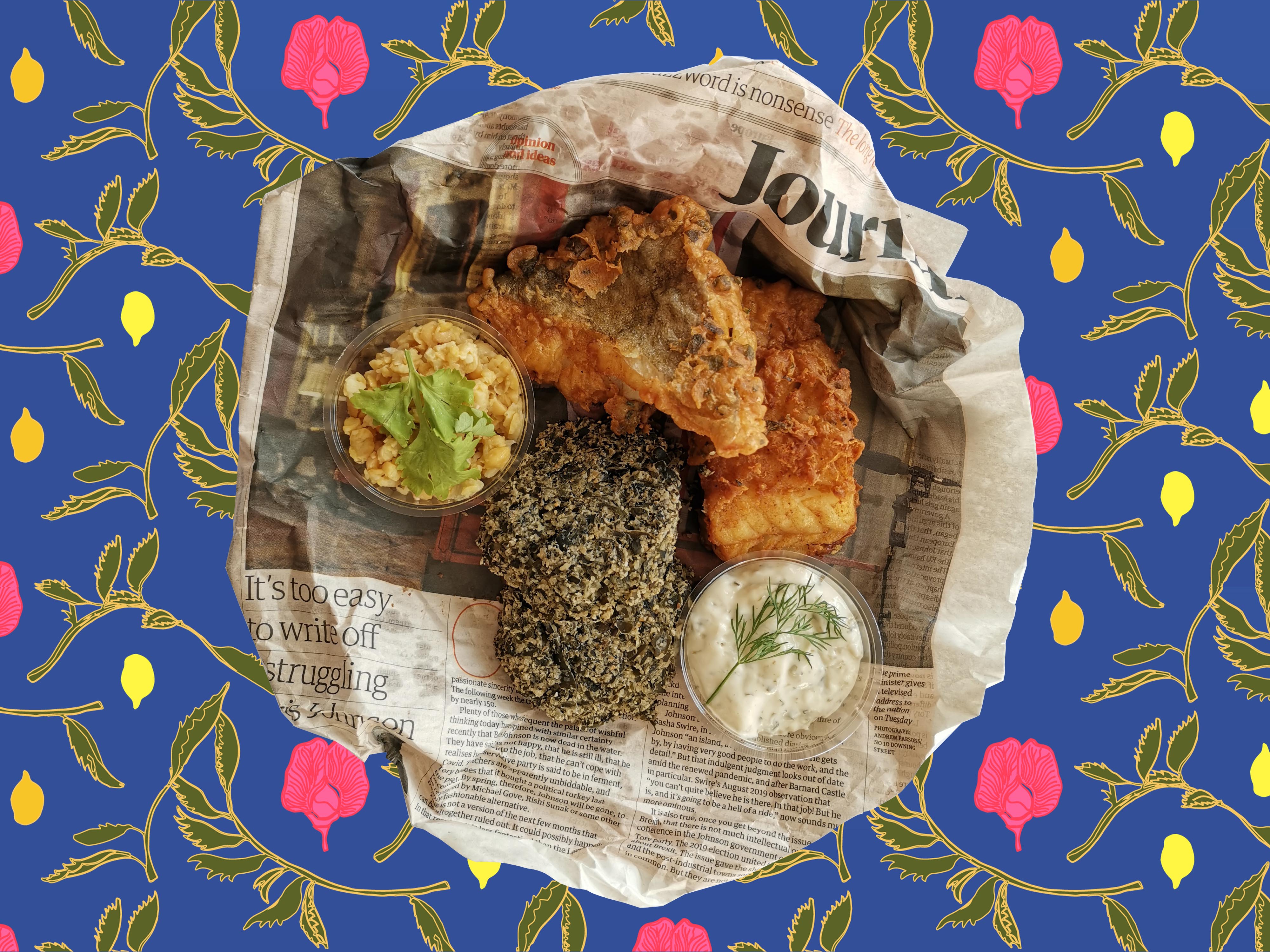 RECIPE 01

Fish in Chicks

New Needs, New Breeds.
AREA
Norfolk, East England.

DISH
Norfolk coast Cod, in chickpea batter with mushy lentils, tartar sauce and Lavar-cake.


BACKGROUND
Eaters in the UK enjoy many staple foods that aren't actually grown there. For example,
chickpea,
the versatile pulse used in
hummus,
vegan sweets
, stews (and more) is
usually imported from Asian countries
. Likewise, the potatoes used for chips, though available locally, are often bought pre-cut and
frozen from the EU.
As these products could become more difficult or expensive to import in a post-Brexit UK, it may stimulate the production of new local crops or the substitution of certain staples.
In Norfolk,
experiments in breeding and growing lentils, chia seeds and
chickpeas
for regional soils and climate zones has already begun.
This dish imagines an adventurous remix of the classic Fish & Chips. Could
British-grown chickpeas
replace wheat flour in chip shop batter, while the chips themselves are replaced by a side of local lentils and rediscovered seaweeds?
INGREDIENTS
COD:
1 tsp red chili powder
1/2 tsp salt
1 lb cod fillet

TARTAR-SAUCE:
1/2 cup mayonnaise
1 small dill pickle, finely chopped
1 tbsp fresh lemon juice
1 tbsp capers, chopped (optional)
1 tbsp chopped fresh or 1 tsp dried dill
1/2 tbsp Worcestershire sauce
1/2 tsp Dijon mustard (optional)
Salt and fresh-ground black pepper

LAVER-CAKE:
4 ounces laverbread
(seaweed; fresh or canned)
1 ounce oatmeal (medium or fine)
2 tbsp bacon-fat

BATTER:
1/2 cup chickpea flour
1/4 tsp turmeric powder
1 tsp garam masala powder
1/4 cup fresh coriander, chopped finely
1/2 tsp salt
1/2 cup sparkling water
INSTRUCTIONS
1. Cod-preparation: Wash the cod and pat dry using paper towels.

2. Sprinkle with red chili and salt and keep aside.

3. Prep the tartar sauce: combine the mayonnaise, pickles, lemon juice, capers, dill, Worcestershire sauce, and mustard in a small bowl and stir until well blended and creamy. Season with a pinch of salt and pepper.

For the best flavour, cover and store in the refrigerator for at least 30 minutes.

4. Laver-cake: mix together the laverbread (or seaweed) and oatmeal. Divide the mixture into 2 inch (5 cm) round and 3/4 inch (2 cm) thick patties.

5. Heat a heavy-based frying pan. Add the baconfat to the pan and heat to hot, but not burning. Slide the patties carefully into the fat a couple at a time and fry quickly for 2 - 3 minutes on each side. Lift out and drain on paper.

6. Make the batter: Add the flour, coriander, salt and the powdered spices in a bowl. Add sparkling water slowly, a little bit at a time, mixing to avoid any lumps, ending with a thick batter.

7. Prepare to fry fish: Prep the pan by heating a deep frying pan with oil.

8. Check the oil temperature by dropping a bit of batter in. If it rises right up sizzling, then the oil is ready. Keep the heat on medium.

9. Dip the cod in the batter and fry in the hot oil. Fry the cod until the outside is crispy and yellowish-brown. Drain on paper.

10. Serve with an additional side of seasoned mushy chickpeas with olive oil and lemon.