RECIPE 02

No Fish No Chips

What's the catch?
AREA
Coastal UK

DISH
Sand eel lightly fried in batter with a side of mushy peas, tartar sauce and samphire (sub: non EU banana blossom for eel in vegan dishes).

BACKGROUND
With cod prices rising and most potatoes for
chips coming frozen from the EU
will the traditional fish and chips become a new luxury?
The UK imports most of what it eats, and exports most of what it catches
. As one of the
UK's top 5 imported fish
, cod has long been the star of the traditional fish and chips. Could changing prices and flows inspire local chip shops and
pub kitchens to accommodate the local catch?
Blue whiting, herring and sandeels have
been speculated by some
to be amongst the influx of species to be caught in UK waters by UK boats post-Brexit. Sandeels are said to have become the
largest single-species fishery in the North sea
, with the vast majority of UK sandeel being landed in Denmark for processing into fish meal. As a hugely important part of the marine ecosystem and major target of the fishing industry, fishing sandeel has previously been
banned off the east coast of Scotland and
north-east England
to protect the food supply of fish and
sea bird colonies.
(
Additional link
). Will the UK set out to protect
depleted sandeel stocks
, or might the UK develop the policy, market and large-scale industry to catch and process sandeels on a globally competitive level?
What will the new Fish & Chip experience be with no (cod)fish and no chips? This dish deals with tensions between conservation, trade, industry, and nostalgia, experimenting with potentially low-cost local sandeels with a side of salty sea greens. Can the traditional chippy thrive even if the classic ingredients change?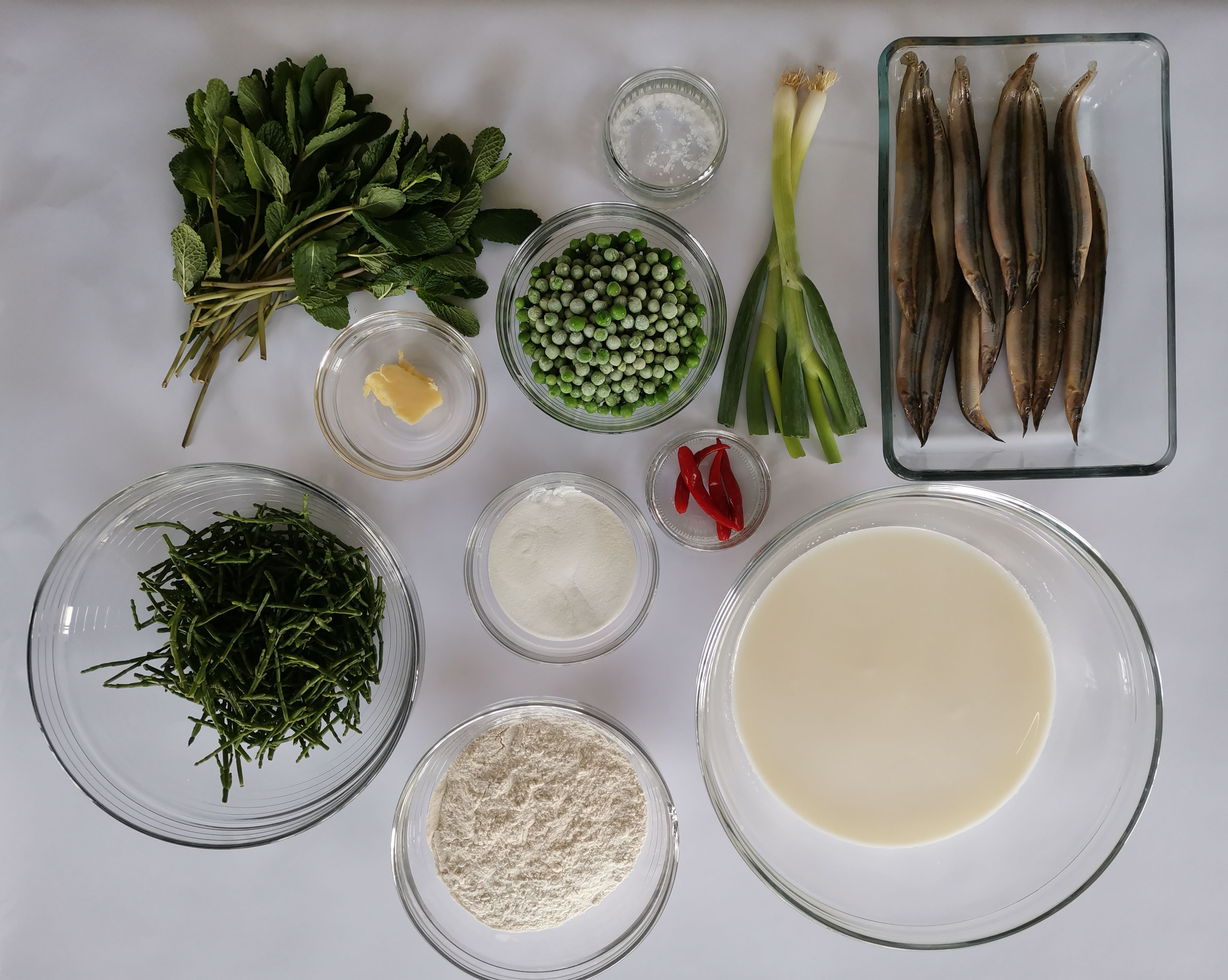 INGREDIENTS
MUSHY PEAS:
3 cup peas
1 knob butter
1 handful mint
SAND-EELS:
Oil for deep-frying
2 lb (1kg) sand-eels
3/4 pint of milk (leave 1/2 cup for batter)

BATTER:
1 cup all-purpose flour + a little extra
1/2 cup milk
1/2 cup water
1/4 cup baking powder
1 tsp salt


GARNISH:
1 cup tartar sauce
5 handfuls fresh samphire

INSTRUCTIONS
1. Prep the mushy peas: Add the butter and mint to cooked peas and mash with a potato masher and season to taste

2. Prep the eels: Take off the heads of the sand-eels, pulling out the gut as you do so. Make a 360 degree turn with a sharp knife behind the gills, flick the head out and off + the guts will come with it.

3. Rinse them and leave them to soak in milk for 20 minutes or longer (save 1/2 a cup for the batter).

4. Dry the eels lightly on a tea-cloth.

5. Flour them and leave to one side.

6. Prep the batter: Whisk together 1/2 cup of milk, the flour, water, baking powder, and salt in a bowl until smooth.

7. Cook the eels: dip them in the batter and deep-fry them in the oil, which should be good and hot —about 475°F (250°C). You should only put a few in at a time, so that the temperature of the oil stays high, and you should take them out once they are golden brown. Salt them lightly before serving them piping hot.

9. Garnish with the side of mushy peas, tartar sauce and fresh samphire seasoned with lemon juice.